Mango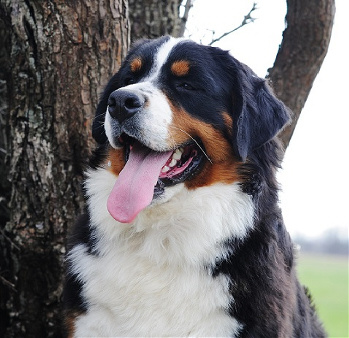 Mango was bred at my mom's kennel out of Duc and Yolanda. But since my mom was travelling when Yolanda was due, I took care of her and the single pup she delivered. Yolanda is probably my favourite of all my mom's dogs (if I had to choose!), so it's no surprise I fell hard for little Mango. Her colouring was perfect and she was so cute and chunky. By the time my mom came home, I'd set my heart on keeping her and named her after my favorite fruit! However, my mom reclaimed Yolanda and Mango, telling me she had a long waiting list for this little girl, including many breeders. I started campaigning hard for Mango, and eventually I prevailed. Sometimes I have to use my clout, and Mango was worth it.
She has retained her perfect markings and looks as she matured. She is stocky, very well put together and frankly, a solid little tank. As for her personality, she's still young and a big, goofy puppy. However, since she's been raised with toy poodles, she's surprisingly gentle for her size. I admit that Mango is a bit spoiled, and I take full blame, as she's been babied since day one. She knows she's our little princess and takes full advantage of it.
Mango is the fourth generation of dogs bred at my mom's kennel, so she comes from long lines of careful and deliberate breeding. It's much harder than it probably seems to produce litter after litter of consistently sound and healthy Bernese. Yet my mom's dogs never disappoint. None has ever failed a health clearance, and all have great temperaments.
You can learn about Yolanda and Duc on my mom's website, www.moorsbernese.com. Yolanda's parents were Heidi and Dominique; Heidi's parents were Veruschka and Daiko. These lines go back to Belgium, France and Slovakia. My mom and I went to Europe to choose these dogs. In fact, I have visited many countries to hand-pick breeding dogs. Yolanda and Mango are proof that our hard work and dedication to finding the best dogs has paid off. It gives us great confidence to know that we have personally health screened these dogs for four generations, and know that their predecessors have been screened as well, by conscientious breeders.
Mango's father, Duc, was the result of a very long search by my mom for a perfect sire. Mom and I are very similar in our determination; once we get something in our head there is no stopping us until we get what we want. I remember calling her day after day, and when I'd ask what she was doing, she'd say, "Trying to find that perfect male Bernese." She finally found him in France, and asked Lucas and me to go and check him out. Needless to say, I was happy to do so, and was blown away by the quality of the dogs at this kennel. My mom's research had paid off. Duc was, and still is, a stunning dog, and has a great, health-tested lineage.
Stats
Weight 75lbs
Height 26″
Health Clearances
OFA – Hips and Elbows OFA – Cardiac OFA – Eyes VetGen – DM VetGen – vWD