Nell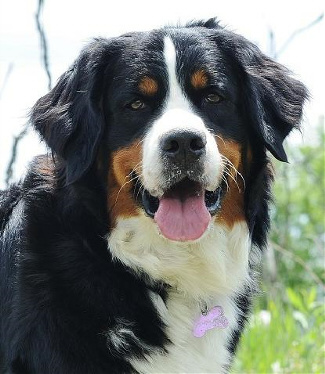 While I usually like to keep my breeding dogs under my watchful eye, I have placed a few with wonderful foster families. "Brinley Nell," or just plain Nell, lives
with adoptive mom, Kathleen Beaudrow. Kathleen has this to say about beautiful Nell:

The three words I'd used to describe Nell would be "sweet, loyal and docile." There is something about her face that makes you smile. When she is sitting beside me,
she loves to put her paw on me or lay her head on my lap. She is also very content on her own, gets along great with other dogs, and is easily entertained in the
back yard with a stick.

Nell is a pretty calm dog compared to any other dogs I have had—unless there is food around. She has quite the healthy appetite! She likes food a lot and gets
excited, but she'd never nip or anything.

She loves going for a run in the woods, playing with other dogs, and playing in snow. Happily, she never jumps on people or kids and never even did this as a puppy.
On her leash she doesn't pull and just walks by my side.

Having Nell with me makes me feel safe. She has a great bark on her that could deter someone even though she is such a sweetheart. She always alerts me when someone
is outside, and knowing this makes me feel very secure.

Nell is one of my mom's great Bernese girls, out of one of my all-time favorite Bernese, Whitney, who is nearly 10 years old and still acts like a pup. Whitney is my
mom's gentle giant. She is so obedient, and walks perfectly on a leash. I've never heard her bark in my life. Whitney has excellent hips and elbows and was an import
from Slovakia.

I am so fortunate to be able to know the parents, grandparents—and now, even the great-grandparents—of many of my breeding dogs. I have hands-on experience with them, know their personalities inside and out, and am seeing their health over time. Dogs like Whitney give me such confidence that I have solid lines.

Nell's father is Colbert, who is also owned by my mother and out of her own breeding. We have owned his lines for three generations back, so there is little room for surprise here. He comes from very solid lines not only in terms of health but also in solid, loving and gentle personalities. He has sired many amazing Bernese and Bernedoodle pups.

Colbert is confident, calm and good natured. His body structure is large and strong—clearly designed for the draft and carting work for which the Bernese were initially bred. Colbert has excellent conformation and his markings are striking. His hips are excellent and his elbows negative for dysplasia. His heart is sound.
His mother is Nellar, his grandmother is Veruschka, and his grandfather is imported Belgium Champion, Daiko—all of whom are owned by my mother. Colbert's father is
Dominique, whom we imported from a fabulous kennel in France after a year-long wait.

You can find out more about all of these dogs on my mom's website. It's truly exciting to have one of her fourth-generation dogs in my breeding program. I love that we not only know the ancestors' pedigrees and health records, but also know their personalities.

Stats
Weight 75lbs
Height 23″
Health Clearances
OFA – Hips and Elbows OFA – Heart OFA – Eyes VetGen – vWD VetGen – DM