Peppy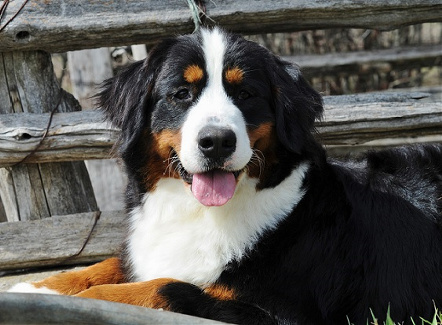 Peppy is another gem I bought from Pat, the wonderful and long-experienced breeder who sold me my very first Bernese, Mocca.

Peppy is the suck of the kennel, and I didn't purchase her right away for that very reason. She was 15 months old and very sweet and sensitive. I was worried that
she may not have the easygoing temperament I look for in my breeding dogs. Plus, she was such a gentle soul that I feared she wouldn't adjust well to the move to
SwissRidge.

Berners have such a strong connection to their owners that it is hard for them to move to new homes after a year of age. However, I liked Peppy enough to take the
chance.

I'm glad I did, because she has adapted extremely well. Peppy warmed up to all of us so quickly that I call her our "sucky baby." When I come home, she sits with her
bum on the ground and wraps her front legs around my leg, and snuggles her head in. If I pat her on the head long enough, she will close her eyes and fall asleep.
And if I lean down to her level she will put her front legs around my neck to give me a hug and lick my face. She is surprisingly gentle in doing this. She loves to
join me on the couch in the evening with her head in my lap, blissfully soaking up all attention.

She is such a quiet dog that I will often forget she is asleep in the corner. She is great with the other dogs, but one of the more submissive girls in the kennel.
She is also one of my smaller girls—so pretty, with her petite build. I'm thankful I took a chance on Peppy, as she is one of the easiest Bernese I've ever owned.

Pat bred Peppy from Dorita and Buford, both of whom had sound hip scores, as did their parents. Buford is a huge, gentle giant whose lines go back to Europe. His grandfather came from the kennel that gave my mom and me our beloved first male Berner, Riley. So I have extra confidence that we are getting a great dog in Peppy.
Stats
Weight 69lbs
Height 22″
Health Clearances
OFA – Hips and Elbows OFA – Cardiac CERF – Eyes VetGen – DM VetGen – vWD