Harper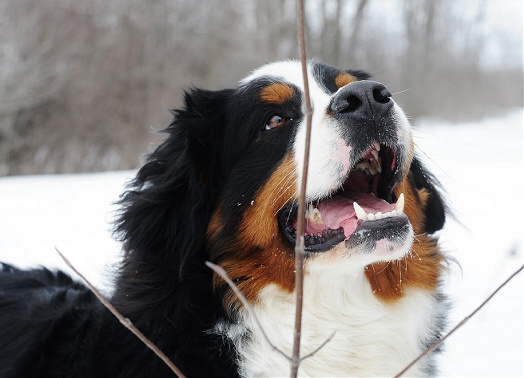 Harper is an Xtreme Cuddler. She loves wrapping her front legs around people and will stay that way until she falls asleep. A Berner hug is a wonderful thing—especially in winter, which is definitely Harper's favorite season. She always has her head stuck in the snow searching for something. Even when the snow was finally disappearing in spring, she'd seek out a small patch to make a doggie snow angel.
A playful, social and affectionate dog, Harper has that perfect middle of the road type personality. She's a dog you can go running, swimming and camping with, but is equally happy to snuggle on the couch. In fact, she loves to "spoon!"
Harper is a diplomat, sharing her love around to all family members, as well as dogs big and small. She can dial it up or down depending on the personality of her human or canine companion. I like to see that intuition in my dogs. She's also a sensitive girl and shows it in the cutest way: if she's done something wrong, she covers her face with her paws. I think she believes she's actually hiding from me, and that I might forget what happened. Not that she misbehaves often. This big puppy is a good girl.
I know she comes from great stock, because she's one of my mom's dogs. Her parents are Nellar and Dominique. We imported Dominique from a fabulous kennel in France, after waiting a year for a dog from these outstanding lines. He is registered with the FCI in France and the Canadian Kennel Club (CKC). His father is a French champion, and there are many other champions in his background. Nellar is a strong-boned female with excellent conformation and an outgoing personality. You can learn more about them on www.moorsbernese.com. My mom also owned Nellar's parents, Daiko and Veruschka, who were imported from Europe. I know these lines inside and out and have researched Harper's lines many generations back. Not only does she have a strong pedigree of healthy ancestors, I know for a fact that the temperaments of the grandparents and parents are outstanding.
When I study Harper, I see elements of generations of dogs I've known and loved. It is wonderful being able to know a dog's history so well, and feel so confident that she has such a great health record.

Stats
Weight 83lbs
Height 23″
Health Clearances
OFA – Hips and Elbows OFA – Cardiac CERF – Eyes VetGen – DM VetGen – vWD