Zoey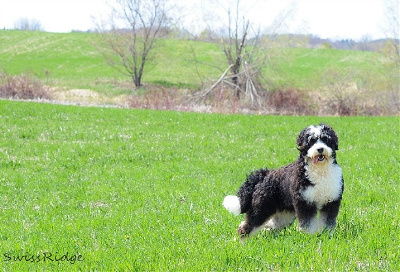 Zoey is a Mini Bernedoodle bred at SwissRidge from Yolanda and Pickle.
Yolanda is one of my mom's wonderful Berners, and you can find out more about her at www.moorsbernese.com. Yolanda's parents were Heidi and Dominique; Heidi's parents were Veruschka and Daiko. These lines go back to Belgium, France and Solvakia, where my mom and I visited years ago to select the very best dogs we could find. They haven't disappointed us! Yolanda and Zoey are living proof that our diligence and scrutiny paid off. These lines have been health screened by us personally for four generations, and screened even further back by other conscientious breeders. And they are producing some terrific, healthy pups.
Pickle is a stunning and great-tempered Miniature Poodle who has now retired from breeding and is living with one of my employees. Pickle passed all health clearances and produced some wonderful offspring with amazing personalities. However, I'm always refreshing my lines, and now the only way to get some of Pickle's fine genes will be through his daughters.
Like all of Pickle's offspring, Zoey is a party on four paws! She races around playing with all the dogs, and then bounds back to her human audience to soak up any available attention. She is extremely affectionate with people and dogs and has the right balance of active and calm. While she loves playing outside and swimming in the pond, when she comes in, she chills out and falls asleep. She is one of my favorite hiking buddies, since she jogs nicely beside me and doesn't get underfoot or wander off. No matter who or what we meet on the path, she is happy and welcoming.
All in all, she is the perfect example of a fun, healthy, non-shedding Mini-Bernedoodle.

Stats
Weight: 47lbs.
Height: 19.5″
Health Clearances
OFA – Hips and Elbows OFA – Cardiac CERF – Eyes OFA – Patella VetGen – DM VetGen – vWD