Colbert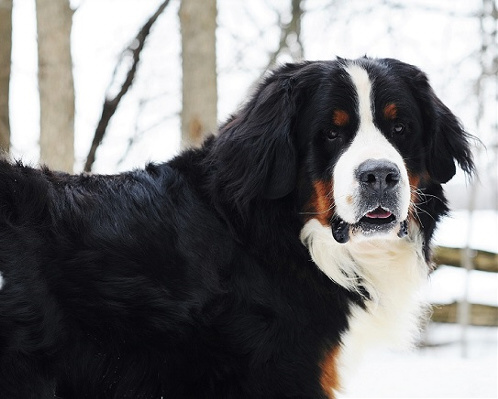 Colbert is one of my mom's finest Bernese Mountain Dogs, and has sired many amazing Bernese and Bernedoodle pups.
Since we have owned his lines for three generations, there is little room for surprise here! He comes from very solid lines, not only in terms of health but also in loving and gentle personalities. Colbert is confident, calm and very good-natured.
A gentle giant, Colbert adores people and giving big bear hugs. When he gives a hug, you definitely feel it! He loves rolling around in the snow and is very good with other dogs.
Colbert's body structure is large and strong—clearly designed for the draft and carting work for which the Bernese were initially bred. He has excellent conformation and his markings are striking. His hips are excellent and his elbows negative for dysplasia. His heart is sound. His mother is Nellar, his grandmother is Veruschka, and his grandfather is imported Belgium Champion, Daiko—all owned by my mother. Colbert's father is Dominique, whom we imported from a fabulous kennel in France after a year-long wait.
Colbert comes from a great stock and it shows in his many offspring.
Stats

Weight 105lbs
Height 25″
Health Clearances
OFA – Hips and Elbows OFA – Cardiac CERF – Eyes Thyroid VetGen – DM VetGen – vWD