Levi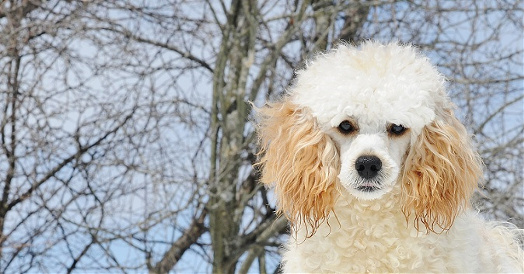 Levi is the first Australian Labradoodle (ALD) I have ever owned. An Australian Labradoodle is a cross between the Poodle, Cocker Spaniel and Labrador Retriever. They come in a range of sizes and colors. Well-bred Australian Labradoodles, including Levi, are registered through the Australian Labradoodle Association of America.
I have been interested in adding ALD to my lines for some time, but the dog had to be just right. I searched high and low for a dog with Levi's attributes and smaller size. I finally found him with one of the top ALD breeders in North America. His pedigree is solid with generation after generation of health-tested parents.
Levi is a handsome boy, with the soft, fleecy non-shedding coat that is prized in ALDs. In temperament, he reminds me of a Goldendoodle, which is probably why I like him so much! He's exceptionally well behaved, intelligent and eager to please. He's spirited, and brings an amazing light into every situation. Curious and spunky, he loves nothing more than being carried around and cuddled. He's delighted to meet everyone who comes to pick up his pups.
Levi adores all the females in the kennel, which isn't too surprising. What is surprising is that he gets along wonderfully with all the other intact males. Levi, Sting and Diesel run together in a happy little pack. Levi also loves playing with his puppies! This just proves it pays off to put the time into finding the right dogs with the right temperaments.
Levi is now siring "Australian Bernadoodles" at SwissRidge, which is a cross between an Australian Labradoodle and a Bernese Mountain Dog. He has produced some truly stunning pups. Long may this continue!
Stats
Weight 14lbs
Height 14.5″
Health Clearances
OFA – Hips and Elbows OFA – Cardiac CERF – Eyes VetGen – DM VetGen – vWD